Come-Play-Stay Dog Training
At Come-Play-Stay! we feel that dog training is the key to promoting and creating healthy and happy relationships between dogs and their humans.
Our goal is to offer the very best reward-based training classes available and understand that classes are only as good as the instructors that teach them!
We have compiled a training team of highly skilled and credentialed instructors. Each of our instructors participates in ongoing education to ensure that we are offering the newest and most effective training techniques available today.
Dog Training Registration Form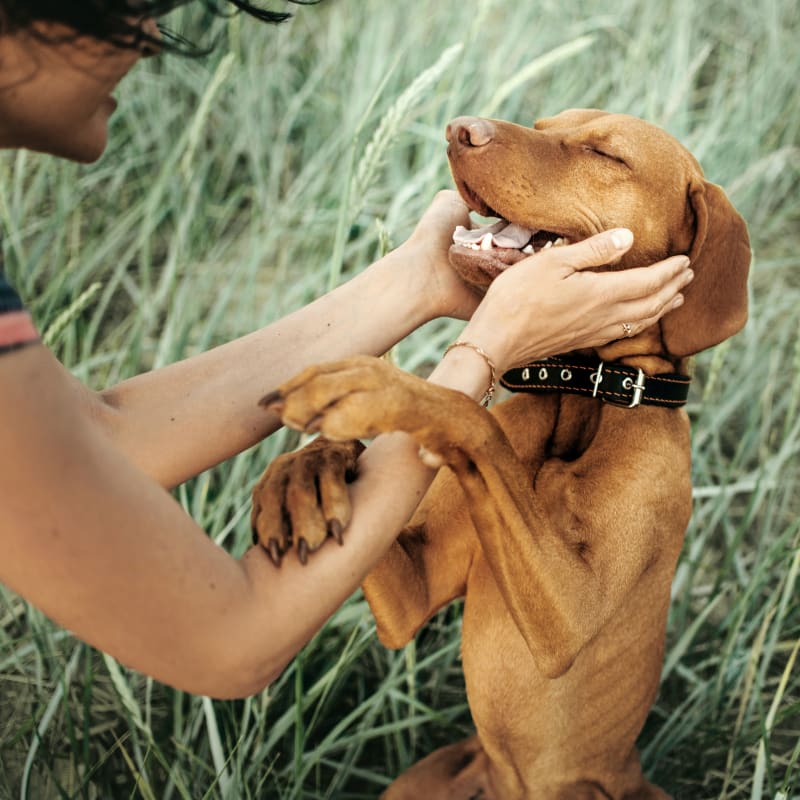 Training Options
While most obedience classes focus on teaching commands developed for formal obedience competition, we know this is not the core of making a dog easy to live with.
While it might be nice that your dog knows a formal retrieve; it will not stop him from charging out the front door, dragging you down the block, and jumping on your guests. Come-Play-Stay! prides itself on providing a diversified training program with a curriculum geared for real life. Our series of classes are fast-paced, value-packed, and will guide you and your dog on a journey to good behavior and a great relationship.
Get Your Puppies Socialization Done Right
You no longer have to wait to get started on your puppy's vital socialization & learning. Register for Come-Play-Stay's ongoing admission to One Smart Puppy Class. Our flexible puppy training classes are ongoing and cover specific topics that run on a four-week rotation. You and your puppy can register to start the puppy classes as soon as your pup has been in the home for 10 days, is between 8-18 weeks of age, and is current on vaccinations for their age.
Each 60-minute class will cover a specific topic(s), and sprinkle in positive puppy romp and roll time and training cues such as; sit, down, come, attention behaviors, leash manners, etc. The ongoing start encourages a rotating group, providing optimum socialization to new people and dogs while in a safe and positive learning environment.
ATTENTION
Due to Covid-19, class size is limited to 6 pups and only one person per pup. To maintain restricted class numbers, participants must register in advance for specific dates and only attend on the dates they have been registered for. We are encouraging people to try to register for consecutive weeks, if possible, so we can accommodate as many requests as possible.
 
Smart Dog 1 Features
A 5-week program – $150.00 – limit of 8 students/dogs. The program is designed for dogs 4 months old and older. Smart Dog One covers an extensive introduction to positive techniques and the proper application of such techniques. The focus of this class includes:
Impulse control
Relationship development
Attention and focus
Basics (sit/down/leave it/leash manners etc.)
How to deal with problem behaviors (jumping up, barking, begging, etc.)

 
Smart Dog 2 Features
A slightly more advanced 4-week program – $120.00 – limit 8 students/dogs – Your dog must have taken Smart Dog One as this program expands on the knowledge gained in the previous course and adds additional vital learning:
Advanced attention work
Loose leash walking
Go to your mat
Stays
Distance Behaviors
Smart Dog 3 Features
The highest level of our training program, completed in 4 weeks – $160 – limit 6 students/dogs. Your dog must have completed Smart Dog Two.
Smart Dog Three is an innovative, four-week field trip class.  Each week students will meet their instructor at a different location so they can work on real-life situations with the guidance of a skilled trainer.  These classes are limited to 6 students to ensure that every dog and student gets the individual attention that they need – this class is a must for every person that wants a dog that they can take along with them.  This class focuses on:
Attention with high distraction
Leash manners in the real world
Meeting people and dogs on the street
Trail Manners
Stays in public
And much more!
We are always working to create innovative, useful classes for people and their dogs at Come-Play-Stay!
DOWNLOAD REGISTRATION FORM
Reliable Recall
6 weeks - $180.00 – Includes mandatory Intro Lecture
An innovative class that builds and develops a brilliant recall through games play and relationship building – This is a must-have class to aim toward off-leash adventures with your dogs!
Tricks-n-Games
5 weeks - $150.00
Are you seeking a fun and innovative way to improve your dog's training and focus while improving your relationship in a fun and rewarding way? Then Tricks-n-Games is for you and you and your dog! You'll be surprised by the amazing things your dog will learn… We're talking Hollywood baby! (Participants must be Smart Dog One Graduates, or have instructor approval.)
Therapy Dog
5 weeks - $150.00
This class will guide you on the journey to sharing your dog with others as a therapy dog. The class is geared to prepare you and your dog to be able to pass the necessary evaluation to become a working team. The class covers training skills and also incorporates thorough education to help you better understand your dog – to ensure that they benefit from the work as well. This class was developed and is instructed by Ashley Foster CBCC-KA who was the trainer and coordinator for a nationally recognized therapy dog program for 10 years. (Participants must have completed Smart Dog One or have instructor approval).
Training Rules & FAQs
Every aspect of our puppy and dog training programs is based on making the safest and most positive experience for your pet.
About Our Trainers
Our experienced, dedicated trainers provide positive, reward-based training for dogs of all ages, backgrounds, and behavioral profiles. 
It's their mission to help dogs live their best, safest, happiest lives, and enjoy good communication, trust, and mutual respect with their owners.
Ashley Foster, B.S., CBCC-KA, CPDT-KA
Mrs. Foster is a Certified Behavior Consultant Canine and Certified Pet Dog Trainer-Knowledge Accessed. She has been training dogs professionally since 1994.
Monica Grimm, B.S.
Ms. Grimm is as a Group Instructor and Associate Consultant with Dogs by Foster in Fort Collins. She started shadowing Ashley Foster in 2015.