Doggie Daycare at South Mesa Veterinary Hospital
We pride ourselves on our outstanding safety record, transparency with clients, and our positive, reward-based training philosophies. Our entire staff is trained in canine body language, positive reinforcement training, and gentle handling techniques.
We love working with dogs, and we're dedicated to providing each of our daycare pups with a fun, stimulating, and educational experience while they're with us.
Benefits of Daycare for Your Pup
Socialization

Just like people, exercise is vital for a dog's physical and mental health. Daycare provides a place for your dog to exercise like a dog: running, playing, chasing, rolling, and wrestling – so when you pick them up at the end of the day, they are tired and content. They get to interact with carefully screened and evaluated dogs, which gives them the chance to interact with a variety of breeds, personalities, ages, and environments.

Problem Prevention

Dogs are active animals that were bred to have specific jobs. In our society we ask our dog, with an ingrained work ethic, to stay at home and wait while we work during the day. This will often lead to boredom and unfortunate creativity – expressed as destruction – on the dog's part. Dogs who don't have their mental and physical needs met are dogs that will get into trouble.

At Doggie Daycare, good manners are practiced throughout the day – we work on no barking, no jumping, proper play and interactions, and impulse control. We expect our daycare pups to go home better-behaved than when they came.

Environmental Enrichment

Dogs need just as much mental exercise as they do physical activity. Daycare is a great place to fill your dog's brain with thoughts, smells, lessons, visual stimulation, sounds, decisions, and problems to solve.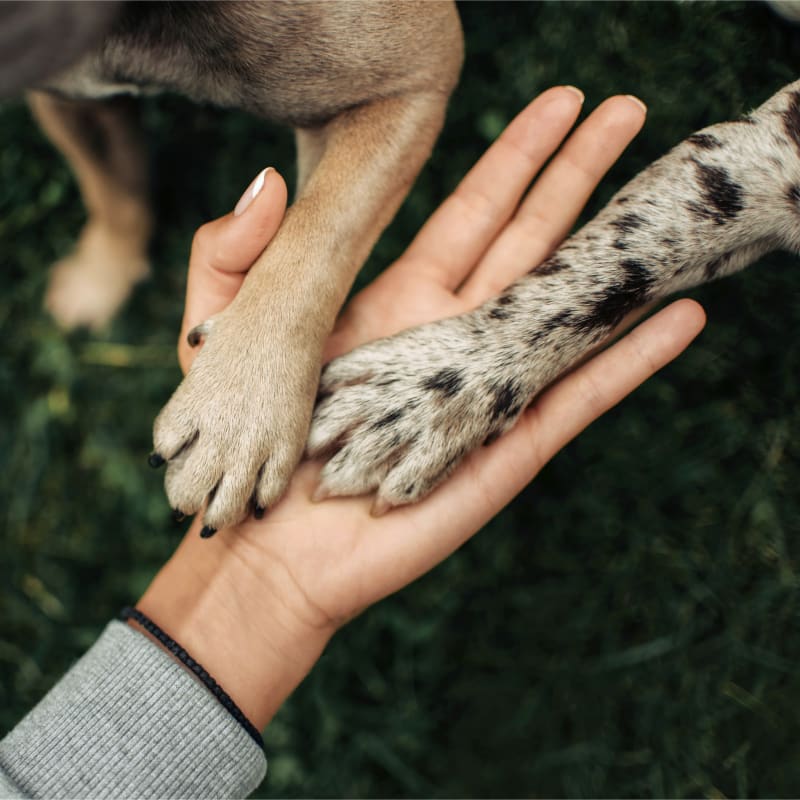 Package Pricing
Packages are available to save you money. When you purchase a package you can either use it on an as-needed basis or you can set up a regular weekly schedule.
Individual Day | $31
Additional Day in Same Week | $29
5-Pack | $135
11-Pack | $280
22 pack | $505
Daycare Hours
Monday - Friday 7:00am - 6:00pm
Getting Started with Doggie Daycare
Before scheduling a Temperament Test, please be sure to fill out an application, and provide current vaccination records and proof of annual fecal test.
Schedule a Temperament Test ($25 fee)
A Temperament Test is a 30-minute evaluation with you and your dog with our daycare manager before starting daycare. This gives our staff a "heads up" on any behavior issues your dog may have before starting daycare. *All materials must be submitted and current BEFORE scheduling a Temperament Test!
Schedule a Play Skills Day (No charge)
The Play Skills Day is your dog's first full day of daycare that will serve as a slow introduction to our staff, the facility, and other dogs. This allows our staff to see if your dog will enjoy the daycare environment.
Daycare Features
Your dog can run as much as possible in our climate-controlled, indoor play area and our enormous outdoor play area. Surrounded by an 8-foot fence, your dog can enjoy our artificial turf field as they soak up the Colorado sun.
You can rest assured that our staff is watching your dog at all times while they develop friendships and learn manners through techniques designed by Certified Pet Dog Trainer and Canine Behavior Consultants.
Our vets are standing by at all times in cause the need should arise, and we maintain a strict policy of 1 staff member for every 15 dogs.
With our thorough screening process, temperament testing, and one-day-a-week consistent commitment from our clients, we offer a safe and enjoyable experience for your dog.
Daycare FAQs
Read the FAQs below to learn more about our Doggie Daycare service!
Looking for Overnight Care for Your Pet?
Regular daycare clients may participate in "Play and Stay". Play all day in our daycare and quietly sleep their night away in our comfortable kennel, for those times you have to be out of town.